Project
EU External Cyber Capacity Building training for the Western Balkans, Eastern Partnership and Southern Neighbourhood
Suggest a page edit
About
Cybil code: G0893
Status: Finished
From: Apr 2022
To: Apr 2022
Tags: Western Balkans
Funders
Implementors
Summary
EU CyberNet held its EU External Cyber Capacity Building training for the Western Balkans, Eastern Partnership and Southern Neighbourhood delegations in Istanbul.
Details
Aim
This project aimed to help attendees that are working on the identification, formulation and implementation of cyber and digitalisation related projects to improve their skills in the identification and formulation of new external cyber capacity building projects.
Context
This training was the first out of three classroom courses planned for 2022.
Outcomes
Programme managers and specialists from 12 countries benefitted from this training.
Key takeaways include understanding the CCB key concepts, methods and challenges. Attendees highlighted the opportunity to practice the new knowledge and design fictional CCB missions during the breakout sessions.
Activities
26-28 April 2022 (Istambul, Turkey)
Images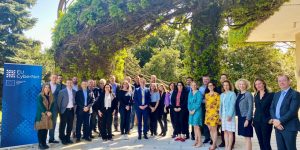 ---
The Cybil project repository is being continuously updated, and the information it contains is either publicly available, or consent for publication was given by the owner. Please contact the portal manager with any additional information or corrections. Whilst every reasonable effort is made to keep the content of this inventory accurate and up to date, no warranty or representation of any kind, express or implied, is made in relation to the accuracy, completeness or adequacy of the information contained in these pages.